PHOTOGRAPHED BY FRANK W. OCKENFELS 3 and PHILLIP CARUSO
---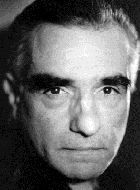 Las Vegas is the quintessential American city, and Casino is a quintessential American tragedy, in which the Mafia stands in for the heroes of old. Based on a true story, and scripted by Nicholas Pileggi and Martin Scorsese, Casino takes place in the '70s and early '80s, when the mob was making so much money skimming from the casinos that the town was a sort of free zone uncontrolled by any particular family. Into this pecuniary paradise stumble Ace Rothstein (Robert De Niro), a cold, calculating magician with numbers, who runs a casino and marries a stunning hustler named Ginger (Sharon Stone), and Nicky Santoro (Joe Pesci), his childhood pal and a hotheaded killer. Pride and greed have their way with the two men until they fall out, with unhappy consequences for all. The following is an amalgam of entries from Martin Scorsese's journal.
---
June 24,1994. Friday. Up at 8:00 a.m. I awake happy. Breakfast, bike, shower, shave. Then I read newspapers, some articles on movies just released, and for some reason I become depressed again. What am I doing? Am I making a picture people want to see? Am I making a movie I want to make?
Weary. Hot. I feel nauseous from the heat. And the hardest part of the day is yet to come, at least in terms of noise and congestion: the Riviera casino. There is a strong possibility we could use this place, from midnight to 10:00 a.m. A whole area with blackjack tables is rarely used. The Riviera would be a nightmare logistically, but the La Cage showroom--all zebra-striped floors and chairs, and black decor--could be perfect for the Jubilation nightclub.
In the casino: a hellish din and the horror of so many people, like zombies, the ugly noise from the machines, the music, the yelling. It saps all the energy that I have left.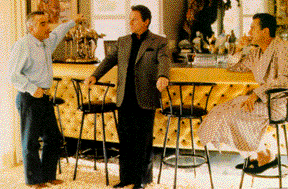 STARS AND BARS: Scorsese confers with Pesci (center) and De Niro.
September 13, 1994. Tuesday.
Up at 7:15. Coffee, shower, shave. This is my last day of preproduction. Tomorrow we begin. Today we'll go through all prep and rehearsal of first day. At 1:15, I go into the house. Sharon's there. Fill her in on the tests, how good she looked. Bob De Niro arrives.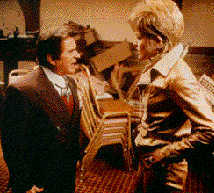 THE PRODUCTION
Up at 5:30 a.m. Coffee, shower, shave. Collect things I need for the trailer. Caught in traffic. Arrive at 7:35.

Kings of comedy: De Niro with Don Rickles, who plays casino manager Billy Sherbert. "In the casino: a hellish din and the horror of so many people."

From 11:30 p.m. to 1:50 a.m., I do rehearsal with Max Raven, who plays Blue, and Mitch Kolpan (a real cop from A Bronx Tale) and an officer from Vegas who knows of the real incident we're depicting.We finally shoot with two cameras, wide, no squibs. Do first take with squibs. Max cuts his finger on shards of glass from the windows of his car. 2:30 a.m., shoot Max again. Better, I think. Back to trailer for some leftover ribs.

Back at 2:40, tired now, five and a half hours of sleep. The two cops--Mitch and the other cop from Vegas force--are "on the alert," even though off duty. We have an unmarked police car blocking the street. Raven is in position for the camera on the ground, "dead" next to his car parked in the driveway. Suddenly, an ancient Oldsmobile comes up the street. Instead of stopping at our roadblock, it continues on, speeding, right onto our set. Our "cops" shout, "Everybody, get onto the sidewalk!" The car is stopped just in time. It would have smashed into the police car in the scene, with Max on the ground in position for the next shot! And it would have hit us too. It was two drunks who tried to speed past the police guarding our set, not realizing a movie was being shot! They're cuffed. One guy is let go, told to walk home! He does it, complaining all the way. Keep shooting. Mitch plants a gun on Max's body. I think we have it. Not sure. But we must stop. 5:15 a.m. Quite a first day. An eighteen-hour day that will set the pattern for the rest of the shoot. Doing six or seven different scenes in one day is too difficult. Easier, generally, to do one scene with coverage.

Tomorrow we go into the casino for six weeks. The production really begins!